The BEST Summer Camps are at The Dominion!
The Dominion offers 5 different day camps. The choices depend on your child's age, and what activities they are interested in. We offer the highest quality of instruction, supervision, and fun.
The camps include all or some of the following: tennis, golf, swimming, basketball, soccer, jui jitsu, obstacle courses, volleyball, field challenges, survivor games, fencing, science, legos, arts and crafts, hip/hop dance, archery tag, jump rope, tetherball, kickball, Frisbee, strength training, tug of war, capture the flag, water balloon and shaving cream fights, gymnastics, visits from the Gym Bus, and visits from The Reptile Man. We also feature the only outdoor laser tag in Texas.
Our counselors are skilled athletes and are required to prepare lesson plans. The ratio of instructor to child is strictly enforced. The Dominion Summer Camps will teach, not babysit.
Your child will go home tired and sweaty! Come join the fun at The Dominion.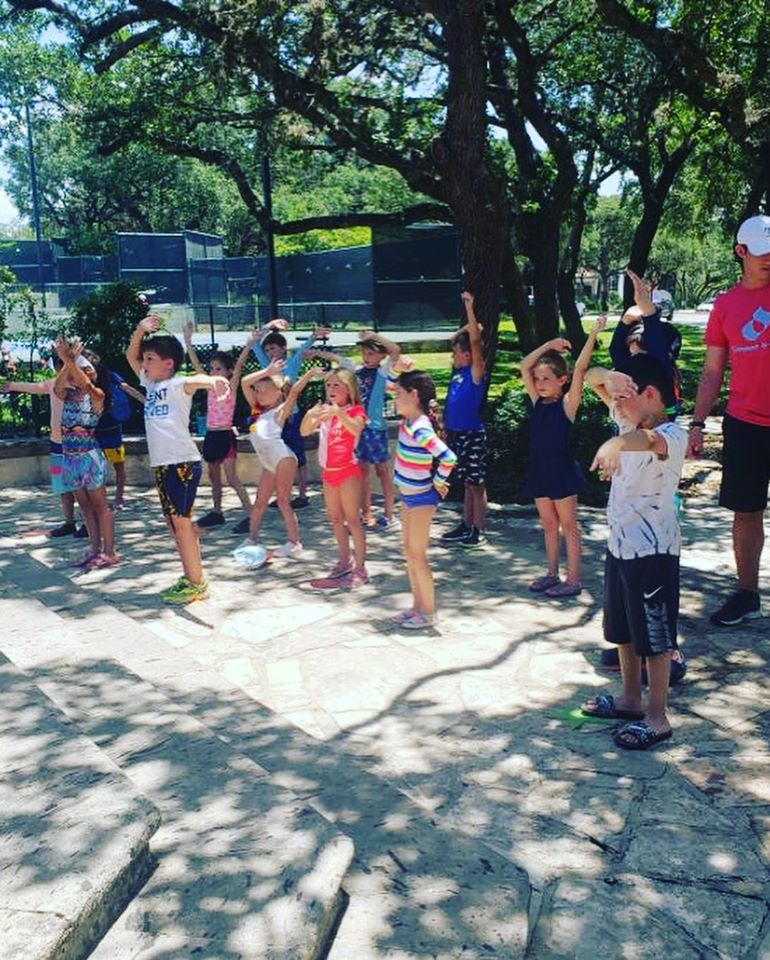 Sign up and keep your kids busy for the summer! Meet new friends and stay active!
Wimbledon, Wimbledon Plus and The DTA Academy Summer Program will begin June 9th.
Register immediately as space will be limited. We will following all CDC, USPTA, USGA and The Governor's Summer Camp guidelines.
Wimbledon, Wimbledon Plus and Golf Tennis Programs will follow this for camps #2, #3 and #4. June 9th through June 26th. Tuesday through Friday. $175 Member / $225 Non Member
Arrive at 830am with one parent or Guardian. If you are Tennis Campers go to Courts. If you are Golf Tennis campers go to Golf Scoreboard.
Tennis Campers will play from 830am- 10am. A snack break from 10-1030am (**Please provide your own snacks and personal water jug**), and resume tennis from 1030am-12pm. Pick up at 12noon. No swimming available.
Golf Tennis Campers will meet at the scoreboard at 830am, play golf until 10am. A snack break from 10-1030am (**Please bring your own snacks and personal water jug**). A Golf Professional will then bring your Camper to Tennis.
Mighty Muscles will begin June 30th. Action Adventure is undecided. Mighty Muscles Camp will proceed as advertised.
Must be pre-registered to attend. Walkins are accepted only if space is available and groups of 10 remain.
More updates to follow. Please check here.
Print the Summer Camp 2020 Brochure by clicking on the link below
/sites/www.the-dominion.com/files/f2020dominion_ebroreg_final_0.pdf