WELCOME TO ALL DOMINION DOLPHIN SWIMMERS AND FAMILIES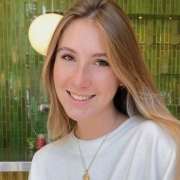 The Dominion Country Club is delighted to introduce Maddy Hilker as our new 2022 Swim Team Head Coach.
Madeline "Maddy" Hilker is a familiar face at the pool. She has lifeguarded since 2018 and has been teaching children to swim here for 3 years. She was a competitive swimmer until she entered high school where she devoted her attention to basketball. Due to her love of swimming, she pursued coaching and lifeguarding at the Dominion Country Club. Maddy gained great coaching experience by coaching under collegiate level swimmers allowing her to coach all swimmers from beginner to advanced. Madeline is particularly good with the beginner level swimmers as she understands their thought process and approach to becoming comfortable with the water and mastering beginner skills. Her patience (gained from having four siblings!) and lifeguarding skills allows her to be extremely attentive, creating a safe learning environment for all swimmers. Her ability to creatively and positively engage the swimmers also creates for an exciting and educational time in the pool.
Maddy is so excited for another amazing summer at the Dominion, GO DOLPHINS!
SWIM TEAM PRACTICE SCHEDULE
Our Swim Team practices will begin Wednesday, May 16th in the evenings. Morning practices will commence once Summer Vacation has begun.
Swim Team Registration Please scan your registration to dominionswimteam@gmail.com or drop off in the Tennis Centre
Parents meeting at the May 16th Evening Practice. Details to be announced.
May 16th - May 27th - Mondays, Wednesdays, and Fridays from 6:30PM - 8PM.
Beginning June 1st - Monday's and Wednesday's from 6:30PM - 8PM
Beginning June 1st - Morning Practices Mondays - Fridays 9AM - 10:30AM
Dominion Members
$160
Non-Members
$260
Private lessons will be offered at your convenience-please let us know when you would like to schedule your children. Please contact Maddy at dominionswimteam@gmail.com or 210-701-2372 to schedule any and all swim lessons. Please suggest any additional programs you would like offered at the pool this summer.
Registration for Lessons Please scan your registration to dominionswimteam@gmail.com or drop off in the Tennis Centre