WELCOME TO ALL DOMINION DOLPHIN SWIMMERS AND FAMILIES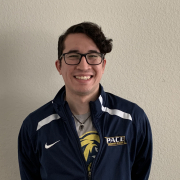 dominionswimteam@gmail.com
The Dominion Country Club is delighted to introduce Joshua Lozano as our new 2021 Swim Team Head Coach.
Joshua competed in High School swimming all four years at O'Connor high school. He swam club at Alamo-Area-Aquatics-Association under Lou and Elle Walker. He qualified for semi-nationally ranked meets during his time at Quad-A as a club swimmer. He continued his swimming career in college at Pace University, New York, an NCAA division two athletic university. He holds one school record in the 400 Individual medley and was on the conference team all three years of his college career. The Conference presidents canceled the fourth year due to COVID-19. Still, during this time, he medaled every year at the conference championship meet and he helped lead Pace University Setters to a fourth-place finish. He made captain during his third year as a swimmer. He has experience coaching swimmers of all ages and levels, from learning how to swim to semi-nationally level swimmers.
Josh is excited to see our Dominion Dolphins back in the pool.
SWIM TEAM PRACTICE SCHEDULE
Our Swim Team practices will begin Wednesday, May 12th in the evenings. Morning practices will commence once Summer Vacation has begun.
Swim Team Registration Please scan your registration to dominionswimteam@gmail.com or drop off in the Tennis Centre
Below is the 2021 Schedule.
Evening Practice - May 12th through May 26th. Mondays, Wednesdays & Fridays from 6pm-730pm
Morning Practice - June 1st through July 9th. Mondays, Tuesdays, Wednesdays, Thursdays and Fridays from 9am - 1045am
Meet Schedules for 2021
Meets to be Announced
Cost:
Dominion Members
$160
Non-Members
$260
Private lessons will be offered at your convenience-please let us know when you would like to schedule your children. Please contact Joshua at 210-364-5171 to schedule any and all swim lessons. Please suggest any additional programs you would like offered at the pool this summer.
Registration for Lessons Please scan your registration to dominionswimteam@gmail.com or drop off in the Tennis Centre