WELCOME TO ALL DOMINION DOLPHIN SWIMMERS AND FAMILIES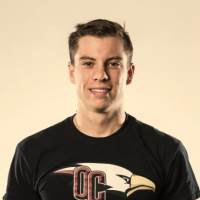 Justin Carey
210-906-2021
dominionswimteam@gmail.com
Welcome Back Justin.
Justin Carey is a native of San Antonio who grew up in the Hill Country surrounding Medina Lake. He began his swimming career at Misty Oaks summer league progressing to swimming club with Alamo Area Aquatics. He has been swimming for 12 years under the direction of Derek Howorth. This year he began his collegiate career under Head Coach Josh Davis at Oklahoma Christian University where he was named the teams inaugural captain. He began his college degree here at Northwest Vista and then transferred to OCU to continue his marketing degree. Coaching has always come naturally to him as he taught his younger brother to swim at the age of 6. Most recently, he coached at Alamo Area under Derek Howorth. He has coached athletes aging from 5-18 years and skill levels from beginner to those qualifying for Olympic trials. We are very pleased that Justin will back this year to direct our Dolphins!
SWIM TEAM PRACTICE SCHEDULE
Our Swim Team practices will begin May 20th in the evenings. Morning practices will commence once Summer Vacation has begun.
Below is the 2019 Schedule.
Morning Practice -
9.30am - 11:00am
Mondays, Wednesdays & Fridays. Beginning Monday June 10th. Evening Practice -
6:30pm - 8:00pm
Mondays, Wednesdays & Thursdays. Beginning Monday May 20th with a "Meet The Coach" practice.
Meet Schedules for 2019
June 10th at The Dominion
June 17th at Woodridge
June 24th at Misty Oaks
Championship Meet TBA
Cost:
Dominion Members
$145
Non-Members
$245